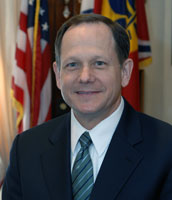 Francis G. Slay made history in 2013 as the City of St. Louis' first mayor to be elected to a fourth, four-year term in office. He became the 45th Mayor of the City in 2001 and was re-elected by large margins in 2005, 2009, and 2013.
Read Mayor Slay's full biography.
Mayor Slay's priorities include making neighborhoods safer, bringing more and better jobs to St. Louis, creating a more sustainable City, and giving parents the educational options they deserve. 
Learn more about some of the Mayor's initiatives.
Residents and visitors of the City of St. Louis are encouraged to use this website to learn more about how Mayor Slay is working to improve the City of St. Louis

Need a city service delivered? 

To file a request on-line, start by selecting a topic from the form below
Contact Information
Phone: (314) 622-3201
Hours:
8 AM - 6 PM
Monday through Friday
Address:
1200 Market , City Hall, Room 200
St. Louis, Missouri 63103
Parking access from Clark Street, 14th street, and Market
Get directions to this address