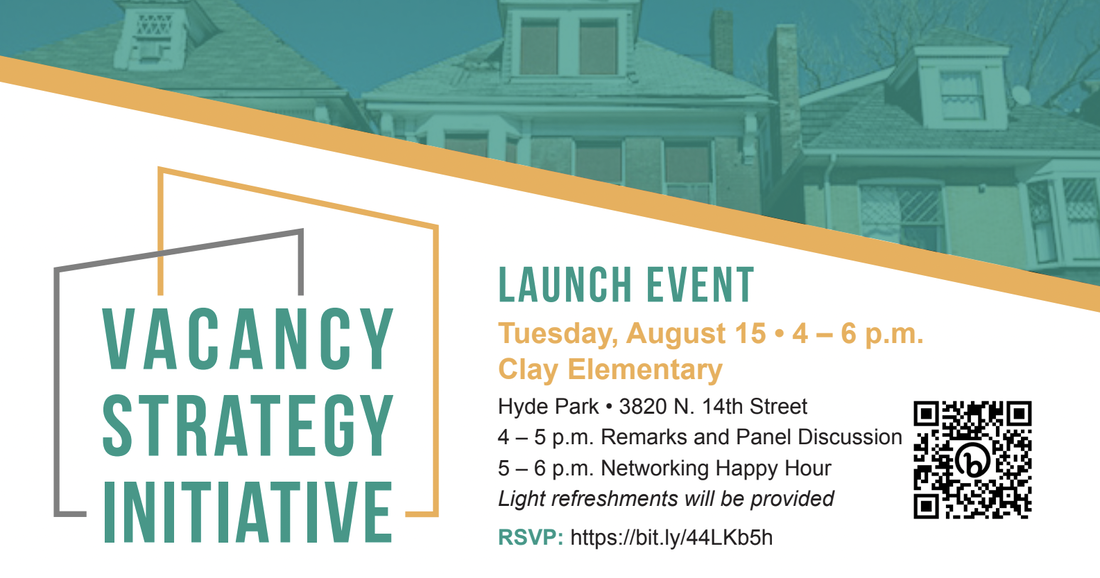 The City of St. Louis - Community Development Administration (CDA) announced today the launch of the Vacancy Strategy Initiative, which will expand the work of the St. Louis Vacancy Collaborative (VC) to address the ongoing challenge of vacant and abandoned properties in the City of St. Louis, and formalize the City's partnership in these efforts. This 2-year project prioritizes collaboration between City departments and agencies for the strategic deployment of resources allocated to vacant property prevention, maintenance, stabilization, beautification, and reuse. 
The VC will support the City, CDA, and the St. Louis Development Corporation (SLDC) in prioritizing activities with data-driven and community-informed solutions, building upon the foundation of past plans, reports, and recommendations, including the 2016 report by the Center for Community Progress "Developing a Shared Vision and Strategies to Address Vacancy and Abandonment in the City of St. Louis," the 2017 report by Asakura Robinson "St. Louis Land Bank Assessment," and the VC's community-driven work plans.
The City of St. Louis currently grapples with more than 22,000 vacant and abandoned properties, including approximately 8,000 buildings and more than 14,000 lots. Of these properties, about 10,000 (8,500 lots and 1,500 buildings) are owned by the Land Reutilization Authority (LRA), the city's land bank. The historical challenges posed by vacant properties include threats to public health and safety; draining City resources for mowing, board-ups, and fires; declining property values; and population loss. The Vacancy Strategy Initiative will develop a comprehensive approach and action plan to reduce these challenges and transform vacant properties from burdens on neighborhoods into principal tools for revitalization.
The Vacancy Strategy initiative focuses on three primary goals:
Interagency Coordination: The initiative includes interagency planning, implementation, and coordination meetings with various City departments and agencies responsible for administering vacancy prevention and reduction programs, including Building Division, SLDC/LRA, Problem Properties Unit, Forestry Division, Neighborhood Stabilization, Planning and Urban Design Agency, CDA, and the Mayor's Office. These collaborative efforts ensure a cohesive and effective approach.

Prioritization of Resources: The Vacancy Strategy Initiative is developing prioritization models and policies to ensure equitable and efficient allocation of resources for building stabilization, demolition, lot maintenance, and beautification. By establishing clear guidelines, the initiative aims to maximize the impact of these investments.

Metrics, Maps, and Cost Analysis: A vital aspect of the strategy is the creation and maintenance of public-facing metrics and maps that track vacant properties and associated city expenditures, building on the VC's existing tools and with the support of the St. Louis Regional Data Alliance. Additionally, a comprehensive cost of vacancy analysis will provide insights into the direct and indirect costs of vacancy, including impacts on property values and tax collection, impacts on neighborhoods, and cost of City services.
CDA awarded a two-year contract in May 2023 to the Vacancy Collaborative, with an expected completion date of May 2025. The funding of $500,000 for this initiative comes from the City's 2017 Economic Development Sales Tax.  
The public and members of the media are invited to the Vacancy Strategy Initiative Kickoff event on Tuesday, August 15 from 4 - 6 pm. The event will include a panel of community and City leaders who will share their successes and challenges in creating stronger, more vibrant neighborhoods, empowering residents with tools and resources, and developing strategic and equitable vacancy solutions including policy and legislative reforms. 

Vacancy Strategy Initiative Event Details:
Tuesday, August 15, 4 - 6 pm
Clay Elementary (3820 N. 14th Street)
4 - 5 PM: Remarks and Panel Discussion
5 - 6 PM: Networking Happy Hour
Light refreshments will be provided.
Click here to RSVP
The City of St. Louis is already taking decisive action to address vacant properties. The Citizens Service Bureau (CSB) acts on residents' complaints. The City's Prop NS program is stabilizing LRA buildings to incentivise sales. The City's Healthy Home Repair program - infused with additional American Rescue Plan funds - helps keep moderate to low-income homeowners in their homes, along with other CDA-funded other home repair programs with Harambe, Habitat for Humanity, and Mission St. Louis. These and other anti-vacancy programs are aligned with the goals of the City's Economic Justice Action Plan. Legal Services of Eastern Missouri's (LSEM) Neighborhood Advocacy provides legal tools to neighbors to prevent and reduce vacant blighted properties. Additionally, the Vacancy Collaborative provides a variety of resources for residents, community organizations, and small-scale developers and rehabbers available at www.stlvacancy.com/#resource. 
###
About the Community Development Administration (CDA): The CDA serves as the City of St. Louis' hub for federal, state, and local funds, implementing the Mayor's economic justice agenda. By funding public and nonprofit entities, the CDA supports a wide range of initiatives, including public services, affordable housing development, blight eradication, and other community development activities.

About the Vacancy Collaborative: The St. Louis Vacancy Collaborative (VC) is a coalition of community members, private and non-profit stakeholders, and City agencies committed to reducing vacant property in St. Louis. The VC helps to coordinate existing vacancy efforts under one umbrella and empowers the public and private sectors to work together toward solutions. We convene committees and working groups to facilitate systemic change, advance new policies, share success stories, and support neighborhood-centric solutions. The Community Builders Network (CBN) of Metro St. Louis serves as the Vacancy Collaborative's fiscal sponsor.
Contact Information:


Tom Nagel
Public Information Officer II
Office Phone: (314) 657-3813
Mobile Phone: (314) 960-7447

Department:


Community Development Administration