Water
Sustainability initiatives relating to Water in the City.
We use water every day, but often aren't aware of just how much it affects our lives. We drink it, we bathe in it, we grow plants with it and we wash our clothes & dishes with it. All the more reason to safeguard the quality and quantity of this finite, life-giving resource.
 
Water Quality
Meeting water quality regulations is a priority for the City of St. Louis; the City has been using the same source water for over one hundred years and continues to meet or exceed the standards set by the U.S. Environmental Protection Agency and the Missouri Department of Natural Resources.
St. Louis was founded at the confluence of two major rivers, and proximity to water fueled the city's growth. Unlike cities that have developed in more arid environments, St. Louis is historically sustainable. With easy access to the Missouri and Mississippi rivers, water quantity is usually not an issue. However, we must conserve our water resources and safeguard our water quality to ensure the health of future generations.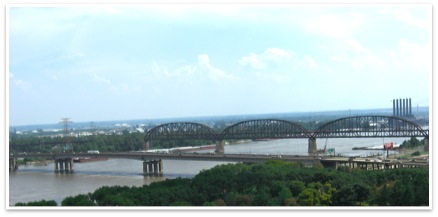 St. Louis' two water purification plants draw water primarily from the Missouri river, and they produce 150 million gallons of clean water each day. The City of St. Louis Water Division constantly tests for over 150 contaminants, ensuring that water meets or exceeds all standards set by the US Environmental Protection Agency and Missouri Department of Natural Resources.  Learn more on the Water Division's site about the History of St. Louis Water Works, St. Louis Water Treatment and Water Quality through Consumer Confidence Reports.
The Mississippi River Cities & Towns Initiative promotes economic and environmental security and stability along the Mississippi River Corridor, and St. Louis plays a strong role in that collaboration. Check the MRCTI website for updates and resources, including:
In 2007, St. Louis tap water was named "Best Tasting City Water in America" after winning a blind taste test. In August of 2008, former Mayor Francis Slay signed Executive Order #43, banning the purchase of bottled water by city departments, except in case of emergency. Using $5,000 in prize money from the Best Tasting City Water in America contest, the City then gave out 5,000 reusable water bottles to employees. Both the bottles and the executive order were an effort to encourage use of high quality tap water over bottled water, which costs more and is not cleaner than tap water.
Green Infrastructure
Actions upstream can have significant repercussions for water quality downstream. Realizing this, the Metropolitan Sewer District (MSD) is taking a number of steps to reduce overflows caused by St. Louis' combined sewer system. More than $4 billion in improvements have been planned or are underway, such as treatment plant expansion and removal of combined sewer overflows into the River Des Peres and its tributaries.

Green infrastructure practices, also known as low-impact development, can reduce runoff and prevent water pollution caused by combined sewer overflows. These measures can be implemented by individual homeowners or on a city-wide scale.
Permeable and Pervious Pavement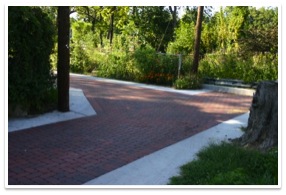 Conventional new development typically entails more hardscape roads, driveways and parking lots. Where rainfall once soaked into the soil, nourishing plants and replenishing groundwater, it now runs off in torrents, potentially overwhelming sewer systems and carrying pollutants to nearby surface waters.

Using permeable pavement can reduce this damaging runoff by allowing water to soak through the pavement surface into the ground. The City of St. Louis is piloting a program to test the effectiveness of different permeable pavement systems in alleyways. The study will compare sewer water flow and quality before and after permeable pavement installation in three St. Louis City alleyways.
Read a summary of the City's Pilot Permeable Alley Program
Rain Gardens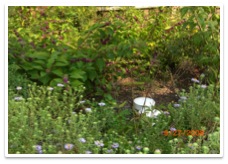 During moderate to heavy rainfalls, rain cannot soak into the ground as fast as it falls, and quick-moving water can erode away soil or cause flooding. Rain gardens help prevent these problems by intercepting runoff; their deep-rooted plants funnel water underground, absorbing more runoff than shallow-rooted grass. These plants also filter the water to some degree, reducing pollution of surface and ground water. In addition, rain gardens can provide wildlife habitat and enhance the beauty of an area. Citygarden, the City's new downtown sculpture park, contains six rain gardens that capture runoff and recharge groundwater.
Rain Gardens in the City of St. Louis
Green Roofs
Hardscape surfaces such as roads and roofs also reflect solar radiation as heat and contribute to higher ambient temperatures; this is known as the "Urban Heat Island Effect." When plant species like sedum are installed on a roof, they capture rainwater and help keep surrounding air cooler during hot summer months through dew formation and evaporation. Green roofs also filter the air moving across them, reducing dust and ozone and providing cleaner air to breathe. One square meter of green roof can remove up to 4.4 pounds of airborne particulates from the air each year, depending on the type of foliage. And because they shield the roof surface from damaging UV radiation and cold winter winds, green roofs last twice as long as conventional roofs.