Preservation News
CRO Awarded Grant to Study Flounder Houses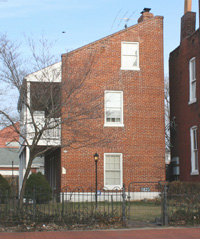 The Cultural Resources Office has received a Historic Preservation Fund Grant from the Missouri State Historic Preservation Office to survey and study the City's historic Flounder houses, as the first phase of an effort to promote their preservation and reuse. This rare property type, sometimes called a "half-house," is present in only a few eastern cities and St. Louis. Work on the survey will begin in the spring, and will be completed within a year.
At left is a beautifully restored Flounder house in Soulard.
Solar Panel Installation Policy Adopted
On February 25, 2013 the Preservation Board adopted guidance for the installation of solar panels in local historic districts.
New City Landmark:
At its November 2013 meeting, the Preservation Board approved the Compton Heights Missionary Baptist Church, located at 3141 LaSalle, to be the City's 126th official landmark. The designation bill has been approved by the Board of Aldermen.
New National Register Historic Districts and Individual Property Listings:

The following National Register Historic Districts and Individual Properties were listed in 2013:
Lindell Park Subdivision Historic District (2/05/13)
Bounded by N. Grand Blvd., Natural Bridge, Glasgow & St. Louis Aves.
Tower Grove East Historic District (3/27/13)
Roughly bounded by S. Grand, Louisiana, Nebraska, Gravois & Shenandoah Aves.
Bevo Mill Commercial Historic District (7/31/13)
4648-5003 Gravois Ave., 4719-4767 Morgan Ford Rd.


Alligator Oil Clothing Company Building (1/29/13)
4153-71 Bingham Ave.
Church of the Messiah (2/13/13)
5621 Enright Ave.
Walnut Park School (4/13/13)
5314 Riverview Blvd., 5814 Thekla Ave.
Thurman Station (7/23/13)
2232 Thurman Ave.
National Cash Register Company Sales & Repair Building (10/16/13)
1011 Olive St.
Listing in the National Register of Historic Places is an honorary designation, and allows property owners to apply for Historic Tax Credits for substantial rehabilitation of their property.
Agendas:
The Cultural Resources Office is trying to be greener!  If you don't need a printed copy of the Preservation Board agenda, download a PDF copy
here
.  Or
Email us
to be added to our email list.
Central West End Revised Standards Now in Effect
Revisions to the Central West End Historic District Standards were approved and fully adopted by the Board of Alderman. The new standards went into effect on March 23, 2013.