License Collector's Office
Manufacturing Industry Briefing 2012
Event will take place on Tuesday, April 3 at City Hall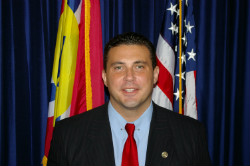 Published: 04-01-2012
Michael McMillan, License Collector of the City of St. Louis, is joined by the U.S. Department of Commerce-Commercial Services-International Trade and PNC Bank to host the second "Manufacturing Industry Briefing" on Tuesday, April 3rd at City Hall in the Kennedy Hearing Room (Rm. 208). Though exporting will be the primary focus, more than 18 exhibitors will be on site to assist manufacturers with information and services unique to their industry. Presenters represent the U.S. Small Business Administration; St. Louis Development Corporation; St. Louis County Economic Council (Free Trade Zone); St. Louis Agency on Training and Employment; the Missouri State Department of Economic Development; the U.S. Department of Commerce – Commercial Services; Missouri Enterprise; and the Office of the License Collector.
License Collector's Office
City of St. Louis

More Stories
As designated by the American Veterinary Medical Association (AVMA), the week of May 19th-May 25th marks National Dog Bite Prevention Week.
Projects receive a two-year land lease and $5,000 seed money
National Police Week, house tours, festivals, service projects, Annie Malone Parade and more!