Fireworks are dangerous and illegal
Fireworks may seem like fun, but every year we have injuries and sometimes property damage as a result of amateur fireworks.
Published: 07-03-2012
 It is illegal to possess, sell, transfer or set off fireworks in the City of St. Louis. Ordinance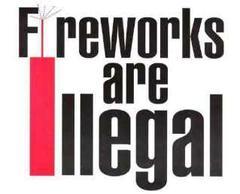 65824.  Adults can be held responsible for allowing minors to have or set off fireworks as well.  See attached flyer.

Police Chief Isom and Fire Chief Jenkerson remind St. Louis residents that it is illegal for citizens to shoot fireworks. It is also illegal for residents to open fire hydrants. "We will be rigorously enforcing these laws," said Chief Isom. "The police and fire departments are working closely together to ensure the safety of all of our residents."

"Fires can start and spread quickly during this period of extreme dryness – and a single spark from fireworks could ignite a deadly fire," said Chief Jenkerson. "We also need people to stop opening fire hydrants. Opening fire hydrants can decrease our water pressure and hurt our ability to put out fires."

Let's all be safe and let the professionals use fireworks.  

There is a great fireworks display scheduled for 9:20 p.m. at Fair St. Louis on the Riverfront on Wednesday, July 4; Friday, July 6; and Saturday, July 7.  They have special training, precautions and much better fireworks. For the full schedule of events see:  http://fairsaintlouis.org/info/schedule/
More Stories
As designated by the American Veterinary Medical Association (AVMA), the week of May 19th-May 25th marks National Dog Bite Prevention Week.
Projects receive a two-year land lease and $5,000 seed money
National Police Week, house tours, festivals, service projects, Annie Malone Parade and more!