Open Fire Hydrants Are Illegal
Parents of Children May Be Liable
Published: 07-06-2012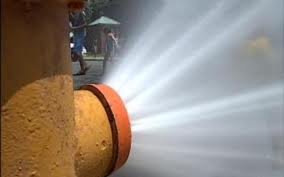 It is illegal and dangerous to tamper with a fire hydrant.  Revised Code of the City of St. Louis Sectioin 23.11.010.  Additionally, it is illegal for anyone to "play, stand or lay in water discharged from a fire hydrant unless said discharge was established by the City for said activities".  Revised Code of the City of St. Louis Section 23.11.020.  "No parent or guardian... of any unemancipated minor under eighteen years of age in hir or her care and custody, shall allow such minor to engage in this conduct.  Revised Code of the City of St. Louis Section 23.11.040.  Parents or guardians may be subject to damages up to $1000.

Police Chief Isom and Fire Chief Jenkerson remind St. Louis residents that it is illegal for citizens to shoot fireworks. It is also illegal for residents to open fire hydrants.
 
"We will be rigorously enforcing these laws," said Chief Isom. "The police and fire departments are working closely together to ensure the safety of all of our residents."
 
"Fires can start and spread quickly during this period of extreme dryness – and a single spark from fireworks could ignite a deadly fire," said Chief Jenkerson. "We also need people to stop opening fire hydrants. Opening fire hydrants can decrease our water pressure and hurt our ability to put out fires."

If residents see an open fire hydrant, they can call the Water Department at 314-771-4880. Residents should always call 9-1-1 in case of an emergency.

More Stories
Plenty of fun, free events this weekend in St. Louis City neighborhoods. Enjoy!
Firefighters and medics to be recognized
Husband and wife establish new careers together with a help from SLATE